Creating Partnership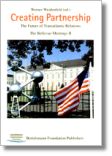 Weidenfeld, Werner (ed.). Creating Partnership: The Future of Transatlantic Relations (The Bellevue Meetings II). Gütersloh: Bertelsmann Foundation Publishers, 1997.

The transatlantic partnership faces the challenge of defining itself anew. Previously established patterns of cooperation, particularly in the fields of security and economic policy, seem to have lost their relevance. Reinvigorating this partnership will mean establishing a new focus on those common characteristics which, for decades, have been the real basics of the relationship. These common American and European characteristics include similar values as well as shared challenges for the future. Building upon this basis, the exchange of perspectives about how to develop the transatlantic economic community and the future European-American security architecture serves to create new bases of cooperation for the alliance.

Every opportunity to enhance the dialogue between the two regions offers a chance to contribute to the revitalization of the transatlantic alliance and thereby to build a partnership that can thrive well into the twenty-first century.